Simplified Whistleblower Policy
This simplified whistleblower policy aims to provide an overview of how we work with whistleblowing. For a complete account, read the full whistleblower policy at the end of this document.

Why whistleblow?
At Precisely, we strive to have an open and transparent workplace, where malpractice does not occur. In the event of malpractice within our organization, we therefore urge you to report these through our whistleblowing channel. Our whistleblowing channel enables confidential communication with us where you can anonymously report misconduct without risking retaliation.
We use Visslan's whistleblower channel which ensures your anonymity and system high security. You can reach the whistleblower channel at Visslan through this link.

Who can report?
You can report and receive protection from the Whistleblower Act if you are an:
employee,

volunteer,

trainee,

active shareholder,

person who is otherwise available for work under our control and management or is part of our administrative, management or supervisory body.
What can be reported?
The reporting is only intended to report actual or suspected irregularities within the Precisely that have a public interest in their emergence. Evidence is not required to report suspected misconduct, but the report must be done in good faith.
We also ask you not to report problems related to dissatisfaction in the workplace or the like, and instead refer you to your manager or People and Culture at Precisely for such issues.
NOTE: Do not include sensitive personal information about people mentioned in your report unless it is necessary to be able to describe your case.
Examples of malpractices of a serious nature that should be reported:
Deliberately incorrect accounting, internal accounting control or other financial crime.

Incidence of theft, corruption, vandalism, fraud, embezzlement or hacking.

Serious environmental crimes or major deficiencies in workplace safety.

If someone is exposed to very serious forms of discrimination or harassment.

Other serious misconduct affecting the life or health of individuals.
What happens when a report is submitted?
Once you have submitted a report through the whistleblowing channel, a 16-digit code will be displayed, with which you will be able to log in to your case in the future.
You will receive an answer within seven days where the Case Manager(s) may have asked follow-up questions through the encrypted chat function. They may also ask follow-up questions after these seven days. Therefore, save your 16-digit code securely so that you can ensure future access to your case. You will receive feedback within three months with which follow-up has been planned or taken place due to the reporting.
It is important that you log in to your case with your code from time to time to answer any follow-up questions from the Case Manager(s).
The longest a report will be processed is two years after its conclusion.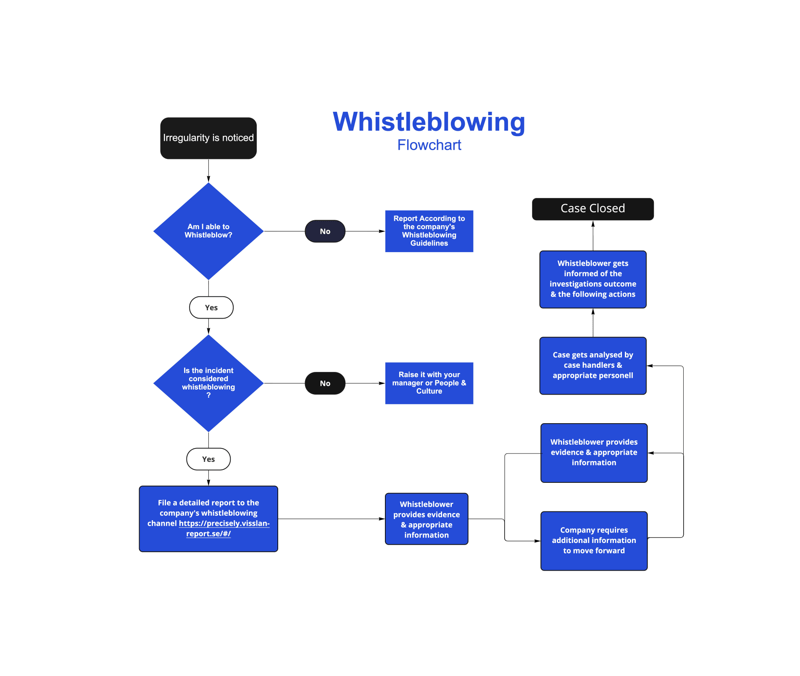 Contact information for Case Manager
Name: Jenny Hall
Position: Legal and Compliance manager
Email: jenny@precisely.se
Phone number: +46 703 568 781

Additional information
If you want to know more about our handling of whistleblower cases, personal data or work environment issues, please read the following documents:
Full whistleblower policy (available for employees in Notion)